Please see below info and links to Cork's thriving arts scene….
Organisations
Venues
Festivals
Publications / Events Info
General
… if you're a Cork arts organisation not listed on this page please get in touch!
Backwater Artists is a set of 27 studios situated beside the Wandesford Quay Gallery and Cork Printmakers
Broken Crow Theatre Company – an annually renewing ensemble that produces and develops work, and holds fortnightly Creative Sessions.
Camden Palace Hotel just down the quay from us, this project/venue/collective has a lot going on and plenty of opportunities for anyone to get involved.
Conflicted Theatre Company is another one of the latest theatre companies on the scene.
Corcadorca Theatre Company specialise in staging exciting shows in unusual locations although more recently have been using the traditional stage and are based here at Civic Trust House.
Cork Artists Collective is a artists studio space. Their public projects are The Guesthouse (see venues), Sonic Vigil sound art festival (see festivals) and Lightbox Exhibition in Tom Barry's.
Cork Community Artlink an exciting and active community arts group which creates arresting and memorable installations in collaboration with lots of different communities. Their flagship project is the spooktacular Dragon of Shandon parade.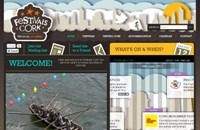 Festivals Cork 's website your online guide to 23 key festivals in the city. It also has lots of visitor information for Cork
Cork Film Centre a friendly support organisation for filmmakers (based here at the house).
Cork Orchestral Society present the majority of classical music concerts in Cork city.
Cork Pops Orchestra  provides an educational and entertainment service to the public and private sector.
Cork Printmakers studio is a membership-based artist resource which also runs workshops. It has a print salesroom and also holds occasional auctions.
Grafitti Theatre Company are Cork's leading youth theatre company and have their own dedicated building.
Irish Association of Youth Orchestras is a national resource organisation based here at the house.
Lavit Gallery  shows the work of over 400 artists, introducing many new artists to Cork audiences.  It is a non-profit organisation which is dedicated to promoting the work of local and national artists.
Mayfield Community Arts is a unique dedicated arts space and develops, manages and delivers imaginative arts programmes in consultation with the local community.
The Munster Literature Centre are a resource organisation, organise awards and publish Southword.
National Sculpture Factory have a huge workshop and organise events conferences, exhibitions and allsorts.
Ó Bhéal organise regular poetry events (usually in the 'hayloft' above the Long Valley) and have an active blog.
Ruari O Donovan Choreography is another relative newcomer to the scene but is deeply involved with Cork's arts scene!
Tigh Filí the house of poets is primarily a literature organisation and publishing company but also works in visual arts and other disciplines. Currently based here at Civic Trust House.
 Art in the Park –  an artists in residency project at The Lord Mayor's Pavilion in Fitzgerald Park.
Basement Project Space is an artist-led initiative combining gallery, studios and media lab on Camden Quay.
Cork Arts Theatre (the 'Cat Club') is an intimate theatre with a modern venue just across the river from the Opera House.
Cork Opera House is the city's biggest theatre hosting opera/theatre/music and which also has a lovely intimate space, the Half-Moon Theatre.
Cork Vision Centre is a restored ancient church which regularly hosts various exhibitions and has a fascinating scale-model of Cork City showing the old and new areas. It is the base of Cork Civic Trust.
Crawford Art Gallery the city's municipal gallery with an extensive permanent collection (including a gorgeous collection of work by stained-glass artist Harry Clarke) as well as major temporary exhibitions.Very good café!
Cyprus Avenue one of the key music venues in the city for local and visiting musicians – standing gigs.
The Everyman hosts touring productions and produces in-house.
Firkin Crane is the only venue dedicated to dance in the city though other artforms feature in the programme. It provides tuition and rehearsal space as well as a performance space for both amateur and professional productions.
Granary Theatre the University's theatre produces a large amount of student work and hosts touring production. Nice black box space in the round and thrust.
Glucksman Gallery UCC's architectural award-winning gallery which has an international programme and regular events. Excellent café downstairs and regular outreach and education events.
The Guest House project space hosts open practice activities, within the context of a domestic setting.
The Olde Bakery is a fantastic outdoors/indoors space that is available for use and very open minded. A great budget spot to start off something wild!
Sample-Studios is an artist-led space with  studios for artists of all mediums. They also have a large exhibition space and black-box theatre/presentation space.
Theatre Development Centre at Triskel is a studio space dedicated to the development of professional theatre, established by Corcadorca in 2011.
Triskel Arts Centre has gallery space and Triskel Christchurch Cork's spectacular new venue hosting some of the city's most interesting concerts with a particularly fine jazz programme. Also home to Plug'd Records and the supremely cool Gulp'd café.
Wandesford Quay Gallery is run by Crawford College of Arts (formerly the Fenton Gallery).
Art Trail the city's main visual arts festival celebrates contempoary visual and sound art and makes for a novel tour of the city.
Cork French Film Festival screens the best in French and international features, documentaries and short films. The festival also provides direct access to top international film-makers with Q&A screenings and masterclasses.
Cork Film Festival over 50 years old, with a huge programme of International, National and local work.
Cork Folk Festival is the city's main festival of traditional music and has taken place annually in September since 1979 (based here in the house).
Cork International Choral Festival is one of Europe's best-loved choral festivals and is famous for its high competitive standards and friendly welcome (based here in the house).
Cork International Short Story Festival is the world's oldest annual short story festival. Every year some of the world's greatest writers come to Cork to engage with lively audiences through readings, workshops, seminars etc.
Cork Lifelong Learning Festival promotes and celebrates learning of all kinds, across all ages, interests and abilities. It is a great opportunity to explore cultural activities for free!
Cork Jazz Festival has been one of Ireland's most famous cultural events and a key jazz festival worldwide for over 30 years (based here in the house).
Cork Midsummer Festival is the city's biggest festival, bringing a vibrant mix of arts and entertainment to venues across the city for three whole weeks over the summer (based here in the house).
Cork Singers Festival is an annual gathering of some of Ireland's finest singers and includes concerts, lectures, and classes
Cork Spring Poetry Festival is one of the biggest annual poetry events on the Irish festival Calendar.
Cork St Patricks Festival is a family festival with Cork's biggest parade as the centrepiece.
Cork Tango Festival is the annual highlight for Cork's hot-blooded tango community and always features wonderful visiting artists.
Cork World Book Fest combines readings by world class writers in a variety of settings with a cultural streetfair: book stalls, music, street entertainment, the spoken word, and more.
Culture Night is probably the most exciting day of the year for the arts in Cork. All over the city venues and artspaces open their doors and invite the public in – there are hundreds of performances, workshops, exhibitions and surprises and the only problem is deciding where to visit.
Damhsafest is the only International Folk Dance Festival in Ireland!
The Irish Performing Arts Festival is an international celebration of arts, disability and partnership, featuring performances, conference, workshops, competitions, concerts & visual arts exhibitions.
Sonic Vigil
PUBLICATIONS & EVENTS INFORMATION
CorkGigs.com An events guide with useful links – the associated news and reviews blog is also worth a visit.
Experimental Conversations is Cork Film Centre's online journal of experimental film, art cinema and video art.
The Mutation is an all-Ireland arts e-zine developed in Cork by MutantSpace.
Peoples Republic of Cork This online zine for all things Cork has a detailed and well-laid out events guide with useful links.
Whazon? is a great print & online events listing published monthly and available citywide
Cork Civic Trust restored the building to its present glory.
Northside Folklore Project A great resource for historical info on our area of the city.